The Artwork of
Gustavo Victor Goler
Explore the Masterful Creations of Gustavo Victor Goler: A Unique Journey Through Hand-Carved Artistry. Our online galleries proudly showcase Gustavo Victor Goler's exquisite collection, featuring the finest hand-carved Retablos, Bultos, and Stone Lithographs. Each piece is a testament to Gustavo's deep-rooted passion for traditional art forms, blending centuries-old techniques with innovative designs that breathe life into wood and stone. Immerse yourself in a world where each artwork tells a unique story, crafted with unparalleled craftsmanship and artistic vision.
Gustavo Victor Goler: A Legacy of Artistry and Conservation. Raised in Santa Fe, New Mexico, Gustavo's journey began among a family deeply entrenched in the preservation of Latin American art. His formative years in his family's conservation studios laid the foundation for his exceptional wood carving skills, initially honed by restoring 18th to 20th-century Saints from Latin America and New Mexico. A passionate creator since his high school days, Gustavo's career has evolved from a personal hobby to an acclaimed professional pursuit, marked by numerous awards and an unwavering dedication to the art of Santos.
Own a Piece of Timeless Tradition: Gustavo Victor Goler's Artwork for Sale. Here, you have the unique opportunity to acquire a part of history. Our collection for sale includes a diverse range of Gustavo's works, from intricately carved Retablos and Bultos to evocative Stone Lithographs. Each piece embodies a blend of historical reverence and contemporary artistry, making them not just artworks but treasures that carry on the legacy of New Mexican and Latin American art traditions.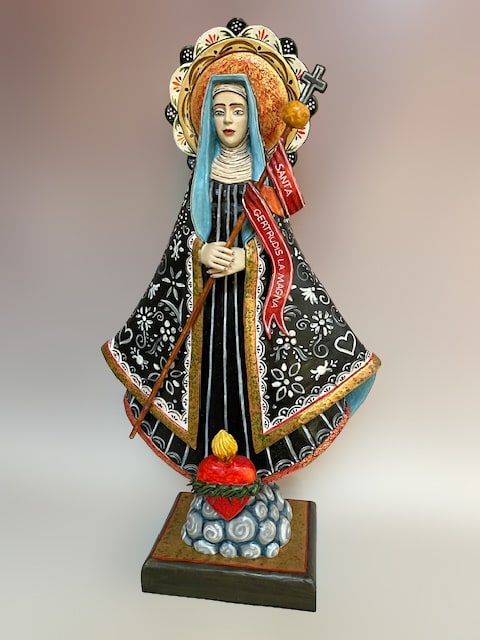 Santa Gertrudis La Magna 22" h. x 11.5" w. x 5.5"d.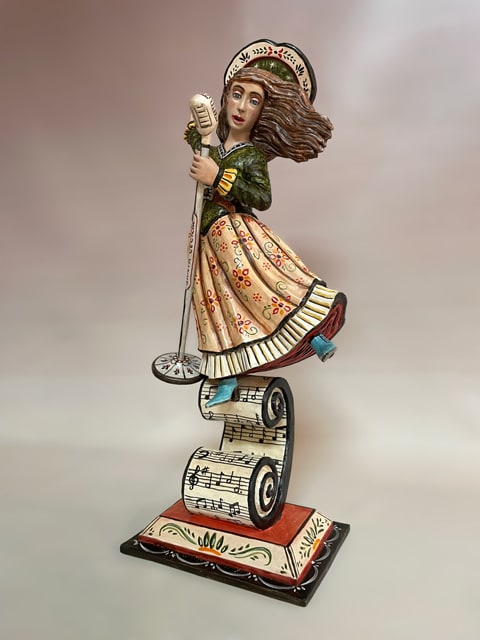 Santa Cecilia 16.75" h. x 7" w. x 4.5" d.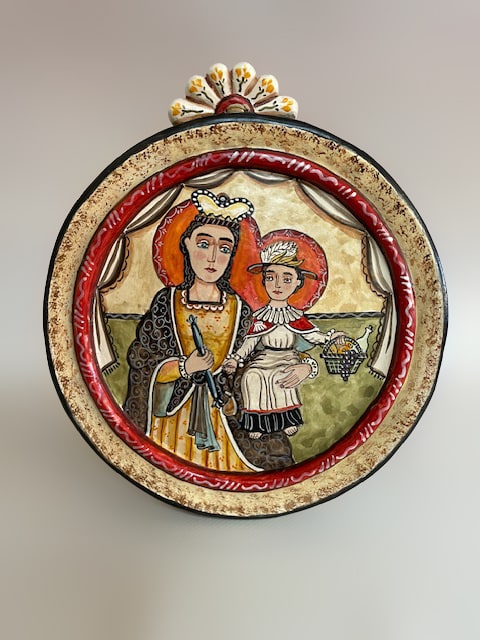 N.S. de Atocha8" radius x 9" h. 1.25" d.
Contact Gustavo Victor Goler
Connect with Gustavo Victor Goler: Inquiries, Commissions, and Conversations. Whether you're an art enthusiast, a collector, or looking for a bespoke piece, Gustavo Victor Goler is here to engage with you. For inquiries about existing works, discussions about potential commissions, or simply to share your thoughts on his art, please don't hesitate to reach out. Your interest and appreciation for the art of Santos are what continue to inspire and drive Gustavo's artistic journey.
For all inquiries please send a message below or email vgoler@taosnet.com